To view the latest Market Intelligence report PDF, click here.
As the Bank of Canada aggressively raised rates over the past year to fight multi-decade-high inflation, fears are mounting that tighter monetary policy will push the Canadian economy into recession. Indeed, central banks have a poor historical track record in achieving "soft landings" following tightening cycles. That is, amid high inflation, central banks often struggle to "thread the needle" of raising rates enough to bring inflation back down to 2 per cent without tipping the economy into a recession.
In this Market Intelligence, we summarize how past Canadian recessions have impacted the BC economy and housing market and look forward to how the BC housing market may perform during a potential 2023 recession.
Summary Findings
High interest rates mean that recession anxiety is mounting:
Historically, home sales tend to lead the business cycle, starting to decline many months before the start of a recession. By the time the recession begins, sales are typically near their nadir.

Prices follow a less predictable pattern surrounding recessions. The early 1980s involved a large run up and crash in prices, but subsequent recessions involved a modest softening or plateauing of prices before the ascent resumed.

Historically, home sales tend to post substantial recoveries following a recession as interest rates are cut to support the economy.
Strong economic fundamentals and demographics support the housing sector in British Columbia.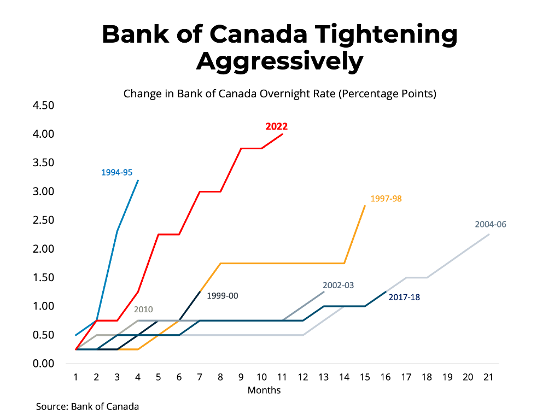 For more information, please contact: Gino Pezzani.